Jumana Al Darwish was the embodiment of a successful modern professional. The Oxford graduate was the Head of Corporate Planning and Development at a government initiative that provided basic primary education to underprivileged children, and she had just welcomed a beautiful daughter into the world, named Ayla.
But Jumana was not entirely happy with where her life was at. "I loved what I did, I loved the team, and the work that we were doing was amazing," Jumana reflects. "But I reached a point in my life and in my career where it was difficult to manage the pressures of a full-time job and being a new mum."
For Jumana, the juggling act as a working mother was particularly concerning because of how difficult her path to motherhood was. "I had great difficult having Ayla to begin with," she explains. "I had to receive In Vitro Fertilization treatment, and it was a very long and difficult process for us to have her. And when she was born, I just felt like I got one shot at motherhood, and I really wanted to spend time with her. I was missing out on the beautiful moments of her life, like her first biscuit, her first walk, her first steps, her first giggles…"
Even as she longed for more time at home as a mother, Jumana also found herself looking to make something more with her life. "I had everything that I could possibly have, and I was so fortunate and grateful for that. But I still felt something was missing. I wasn't satisfied with my life. I felt like I had so much more potential to grow, and do things that impact other people," she says, as she relives the complicated period in her life. "I needed to find something where I could still use my credentials, my networks, the qualities that I have, but also be a mother."
A New Start
As her inner conflicts reached its boiling point, her life would drastically change on New Years Day 2014, when she met her sister-in-law Linda for brunch in New York.
"For me, my life changed over French toast. All the amazing ideas that happen always happen over food," Jumana says with a laugh. "Linda and I were at different stages in life but we were both in search of something more. Linda was an accomplished educator, and now that her children had all grown up, she was looking for something meaningful to do with her time. I was in the same boat as well, and I think we were both looking to find our true state of happiness."
And then it suddenly clicked. The sister-in-laws found themselves turning out idea after idea about how they could bring happiness to themselves and others by giving families an outlet to spend more time together. "I had the background in marketing, communications, and business development, and Linda was an educator with over 30 years of experience," Jumana explains. "We combined both of our skills and credentials and we decided to start something new. And we looked at each other and said, 'You know what, let's do this. It's now or never.'" With that, The Happy Box was born.
The Business of Happiness
The premise is simple: The Happy Box is an educational company that operates with a mandate to provide happiness for families by giving them opportunities to spend quality time with their little ones. "We do this through The Happy Box activity boxes that we develop and deliver to families who subscribe to the service on a monthly basis," Jumana excitedly explains. "It's absolutely awesome. When you open the box, it has eight activities and a book that are designed to be fun and interactive. The boxes have a specific theme – for instance, this month is our 'Celebratory Month' so all of the activities reflect the spirit of celebration, like making a Styrofoam cake."
And the boxes are more than just fun times for the family – they are serious education and development tools for children. The activities within each box are specifically designed to hone fine-motor skills and cognitive development, based on Linda's skills and know-how as an educationalist and speech pathologist.
At its core however, the boxes ultimately support families and working mothers with all the material that they need to spend quality time with their children. "Right now, children spend most of their time using technology," Jumana says. "We're not saying that it is a bad thing, and we are not trying to replace technology. But what we are trying to do is go back to the basics – to the simple things in life. When you sit down with your child and do an activity while giving them your full attention, you feel great as a parent, because you help your child feel that they've accomplished something meaningful. It creates a sense of bonding and belonging, and that's why we wanted to give busy families an opportunity to just disconnect for a bit and spend quality time together."
In their first month of operation, Jumana and Linda sold 25 boxes, all to their friends. But soon, word spread throughout the community thanks to social media and positive referrals, and the business took off. Within six weeks, the duo received 12 franchise requests to expand operations. "And that's when you start feeling that you are doing something that could potentially make a big difference," Jumana explains. "So I left my full-time job and I took it on. That's how The Happy Box started."
What began as an idea to spend more time with family and bring happiness to others is now a thriving operation with offices in New Jersey and Dubai, and it is expanding its reach rapidly through a network of retailers and exclusive partners. Today, in addition to the strong presence in its home market the UAE, The Happy Box also has franchise locations in Bahrain, Saudi Arabia, and Qatar.
A Family Business That Brings Joy to Other Families
The success of The Happy Box has an added layer of meaning to Jumana because it is an achievement that is also shared with her sister-in-law and co-founder Linda. "She's part of all the success that has happened with The Happy Box just as I am also part of all the work and energy she's put into it," Jumana says. "I think working with family is awesome, and I love it. I'm not just saying this because she's my business partner. When you work with family, you're always a bit scared at first, thinking 'Am I going to hate them at the end of this?' Not when it comes to Linda and me."
Even though some consider the idea of working with family members let alone start a company together to be a recipe for disaster, the two have managed to turn it into an advantage: Jumana currently works out of the company's Dubai office, focusing on regional business development and marketing, while Linda works from New Jersey, focusing on product development and quality assurance. "Because each person is responsible for their territory and has a different set of job descriptions, we don't judge each other in terms of the decisions that we make," Jumana explains. "We fully behind each other in all of our choices, as outrageous as they may be. There is full support."
"I also feel that you have a lot more flexibility when you work with family," she continues. "For example, when I was sick in the hospital for three weeks or when she lost her mum two years ago, the other automatically held down the fort because there is a level of understanding that comes without saying a word to each other. We each have our own battles and the beauty of working with family is that you understand what they are going through because their problems are your problems too."
Having built a solid foundation of partnership, the two sister-in-laws remain committed to advancing the company's original mantra. "It is important for us obviously to have a sustainable company that grows, but really we're not profit-driven at all. It is genuinely about spreading happiness. Our passion is doing that are great for other people," Jumana explains. "As utopian as it might sound, I'd love to see the company grow into a global brand and spread happiness to children everywhere."
For Jumana, the success that she's had bringing happiness to others as an entrepreneur has only resulted in even greater happiness for herself – something that she never could have imagined when she started this journey. "I've had the best two years of my life. I've achieved things that I never thought could be possible," she says. "The demands of being a full-time mum, a full-time wife, and a full-time entrepreneur are tough, but we have flexibility in what we do. And as long as we are able to touch someone's heart and make a difference, that will keep us going. We're unstoppable."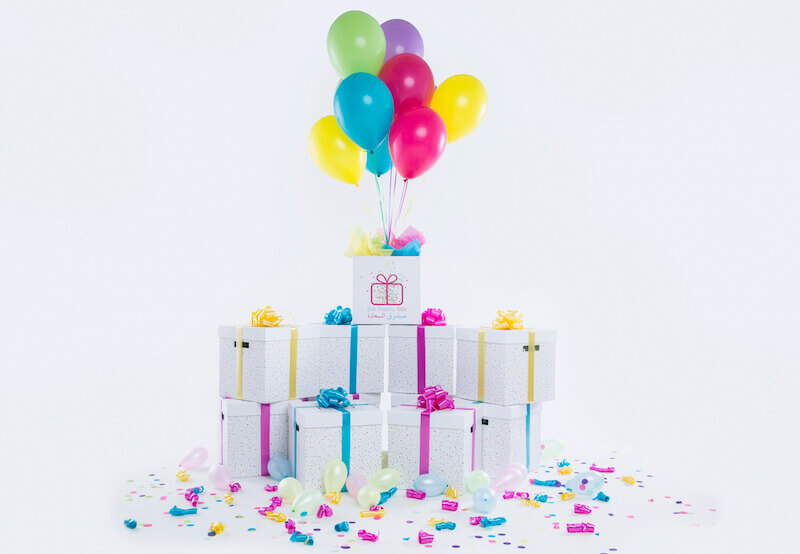 To learn more about The Happy Box, visit http://www.thehappybox.ae/