Jack Mitchell, along with his brother Bill, grew their parents' speciality clothing store, Mitchell Stores, into a model for international, multi-generational family business success.
Not only do Mitchell's employees know their customers' names, but they also know their birthdays, hobbies and, sometimes, even the names of their pets. An excursion to Mitchell Stores, now in its third generation of family management, is defined by interaction rather than transaction.
The extraordinary consideration Mitchell Stores' associates show their customers is no accident; the organisation's management model works in much the same way. At Mitchell Stores, employee appreciation is policy, it is in the family's DNA, creating a trickle-down economy of mutual respect that permeates every relationship. Mitchell's associates take the opportunities they are given to thrive and as a result, Mitchell Stores enjoys some of the highest retention rates in their industry.
The metaphorical hug, an apt descriptor for Mitchell's people-first philosophy, which applies to both customers and employees, has become both a movement and a mantra thanks to Jack Mitchell's work as an author and lecturer.
His bestselling Hug Your Customer: The Proven Way to Personalize Sales and Achieve Astounding Results and its follow-up, Hug Your People: The Proven Way to Hire, Inspire, and Recognize Your Employees to Achieve Remarkable Results espouse the value of showing gratitude to customers and employees. In 2018, Jack Mitchell completed the trilogy with Selling the Hug Your Customers Way.
Recently, Tharawat Magazine sat down with Jack Mitchell to discuss the family retailer's origins, the practicalities of hugging customers and what it means to extend that hug to employees even in the face of retail disruption.
Jack Mitchell, image courtesy of Mitchell Stores.

"From the very beginning, we listened to our customers. As the world changed, we changed."
How did Mitchell Stores begin?
Mitchell Stores began over 60 years ago when my dad was a commuter, living in Westport, Connecticut and working in New York City. He was unfulfilled. So, he enlisted my mother's help, and they decided to start a small men's and boys' store: 800 square feet, three suits, a coffee pot and a dream to be the best store in Westport, Connecticut, a town of only 15,000.  Today our store is 27,000 square feet of men's and women's clothing as well as precious jewellery.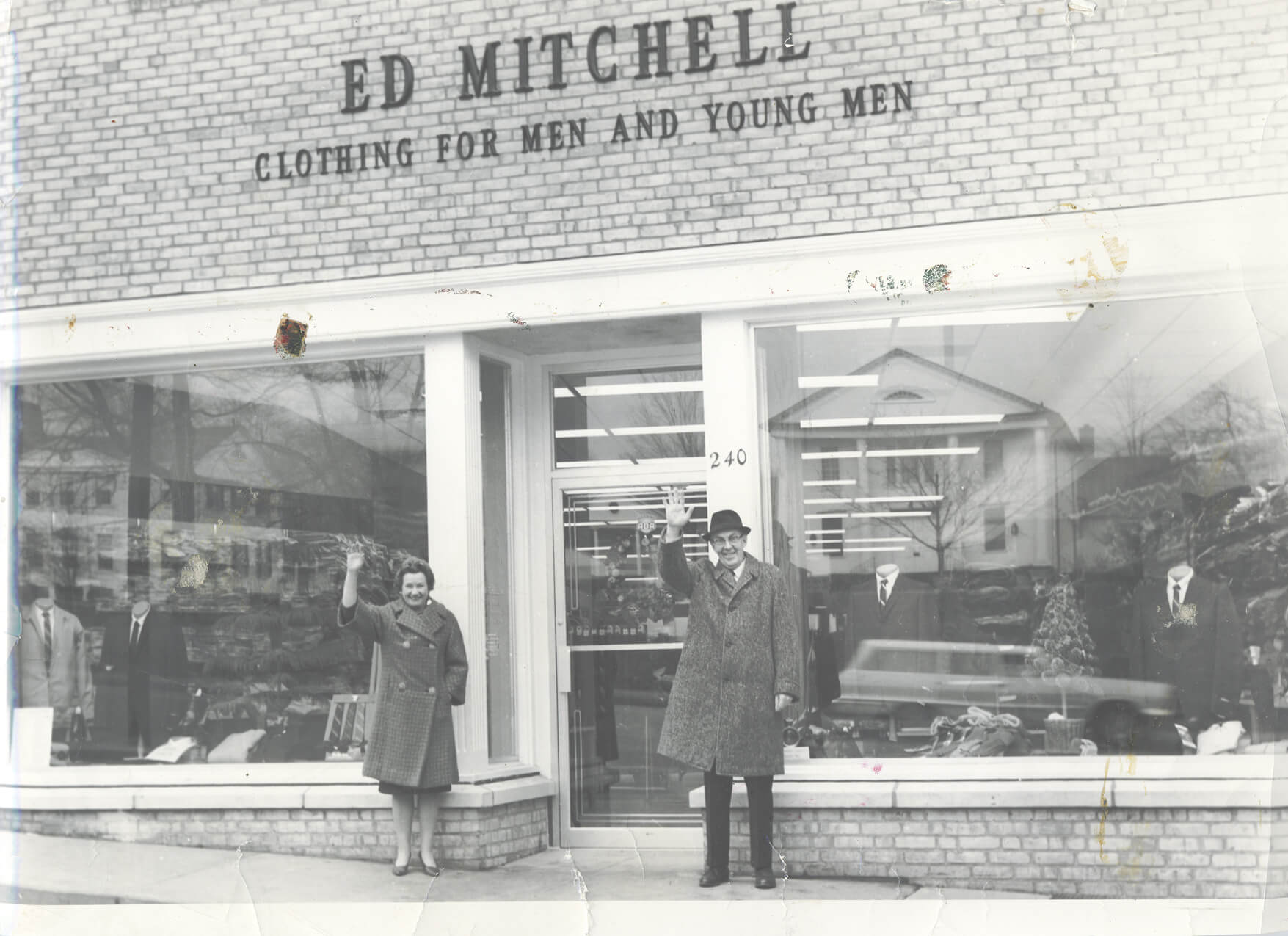 My brother Bill and I came in to the family business in the late 1960s, and assumed ownership and leadership in the 1970s. From the very beginning, we listened to our customers. As the world changed, we changed. Not only in terms of bettering our product but also in continuously looking for ways we could enhance our customer service.
Mitchell Stores is a hugging company. What does this mean? 
In the early 2000s, I attended a conference for the CEOs and COOs of the medium and large retail clothing stores in this country. It featured a guest speaker who said that without a world-class website, family clothing businesses were doomed. Everybody cheered; it was clear they were all in complete agreement.
Later in the day, on stage as part of a panel, I noted that nobody had talked about their customers yet. At Mitchell Stores, we know our customers' names, their birthdays and anniversaries. We build personal relationships with our customers, our vendors and our bankers; often, they become our friends.  Our success is partly a matter of personalising these relationships.
When the panel discussion was over, a CEO came up to me and asked, facetiously, if we hugged our customers as well. I responded with a question of my own: 'Doesn't everybody?' That's when I realised that not everybody does.
About four months later, I was asked to be a keynote speaker at a menswear conference, and I had yet to settle on a topic. My son Russ brought up the "hug your customers" metaphor, where the hug is any act that shows consideration and appreciation making a person feel great. 'That's exactly what we do at our family of Mitchell Stores,' he said.
What does the hug look like in practice?
For customers, every visit should be an experience, so we provide coffee, tea, water and M&M's. We accommodate those who need to keep a close eye on the stock market or watch a match with an oversized TV. We appreciate that every customer is unique and cater to their unique needs. For example, we do home delivery, complimentary closet cleans and wardrobe evaluations.
Once, we sold formalwear to a wedding party, but neither the groomsmen nor the bridesmaids knew how to tie a bow tie. So, we sent somebody to the church to tie their ties for them. That is in our DNA now. Our customers love it as do the people that work for us.
"We have 405 people that work with us at our nine stores, and while they might not have a stake in equity, we pay them well and treat them like family."
Hugging your employees, or associates as we call them, is just as essential. The manager of our Westport store, Tom, loves to tell the story of his interview with me, which took place 20 years ago. Over the course of the interview, I discovered that he had young twin boys. I had also raised twin boys, so I knew what motivated him.
I assured him that it's not only the boss who gets to leave early to attend soccer games. My philosophy is, as long as the store is covered, you are covered. A person's occupation should not take away their important moments as a parent. If a family business cannot appreciate that, then who can?
Did your speaking career inspire you to write the books?
The two are intertwined – as a regular on the lecture circuit, I needed a book. Simon and Schuster CEO Jack Romanos loved my idea and put me in touch with Sonny Kleinfeld, a brilliant collaborator and two-time Pulitzer Prize Winner for The New York Times. He captured my voice beautifully, and the first book, Hug Your Customers, became a bestseller.
I'm often asked about retention – how does Mitchell Stores keep its talent? The short answer is: we give our employees the opportunity to thrive.
For example, Sarah came to work with us, incidentally, after reading my book. She was selling shirts and ties at a large menswear store but was never given the opportunity to advance. Ignorantly, her previous employer had made the assumption that she was incapable of any more.
He was wrong. Sarah now sells over US$2 million in all categories of men's and women's clothing every year. She's one of our top performers.
How does Mitchell Stores ensure harmony at the executive level?
We hired David Bork as our family business consultant in 1985, which was a turning point for the family business.
David was instrumental in differentiating our roles within the business. Bill and I may look alike, but we have different strengths. My brother is on the selling floor; he's the heart and soul of the business. He knows everybody, and they all know him.
Around this time, we also decided to implement a family advisory board. David was the first chairman of the board, and now it boasts six non-family advisors alongside the Mitchells in the family business.
"We do not vote – voting makes winners and losers. Family business is all about bringing people together, which is why I lead by consensus whenever possible."
Do you have a family council as well?
We do, and as the family expands, so does the role of the family council. We are into the fourth generation, with seven adult grandchildren aged 20 to 24. The family council consists of any Mitchell who is 14 years old or older. This includes spouses.
The family council plays an integral role in familial harmony and unity. We meet three or four times a year to play games together, host guest speakers and listen to a state of the store address so that there are no surprises. Family must feel informed and included.
We do not vote – voting makes winners and losers. Family business is all about bringing people together, which is why I lead by consensus whenever possible. 
Did you recruit the next generation or did they join on their own volition?
My four sons and Bill's three sons always had a healthy interest in the business growing up. The fun Bill and I had running the business was apparent, and they wanted to get involved. As they grew older, they were gradually allowed to get closer, and now 6 of the 7 are in the business. We have passed the equity and leadership on to them.
We have two rules in place for family members who wish to join the business full-time. First, they must work somewhere else for five years after they graduate from college. Secondly, they must understand that we do not replace non-family members with family members. We have 405 people that work with us at our nine stores, and while they might not have a stake in equity, we pay them well and treat them like family.
My son Russell, an engineering and computer programming major who is now Co-CEO, was the first to come in. He wrote some simple programs that enabled us to better monitor our cash flow, as well as our profit and loss.
[ms-protect-content id="4069,4129″]
Is it difficult making tough business decisions when dealing with other family members? 
Not at all. Open, candid and honest communication is the key. Family members and senior executives meet every Tuesday and spend an hour talking with the express knowledge that we can say or share anything we feel.
My son Bob, the second to come into the family business and now the other Co-CEO, warned us that poor communication could destroy us, and we heeded his warning. Now, openness is one of our secrets.
How did Mitchells adapt to e-commerce and the wider digital disruption that hit retail?
The first of those two rules about family members joining the family business served us well. Russell worked for IBM, and my other son Todd worked for Apple. Todd was part of the Silicon Valley software industry for five years before he joined the family business.
Together, they custom-designed a CRM system, and we took advantage of the disruption. Since then, we've upgraded and enhanced that system with the help of an external firm. We also employ a dedicated team of four that works exclusively on our online business.
Our in-house data scientist helps us make sense of single sales and individual customers by utilising stock-keeping units. Confidentiality is a priority; we don't share the data with third parties. Its richness, however, helps us stay personal.
"The data shows that looking after our people, both customers and associates, at a physical location makes sense."
Incorporating technology can mean the elimination of certain jobs. Isn't this counter-intuitive to hugging your people?
We believe in technology and embrace it within our value structure and our vision of who we want to be. Implementing technology and looking after our people aren't mutually exclusive – it's more complicated than that. For example, we're aware of the Internet, but conventional bricks-and-mortar stores are still our primary channel for distribution.
Our online business is set up to enhance the shopping experience of our current customers. Among other things, they can check online and see if we have a certain product in-store before they come in.
While we do have customers who make 80 per cent of their purchases with us online, online sales only account for 4 to 5 per cent of our total revenue. The data shows that looking after our people, both customers and associates, at a physical location makes sense.
[/ms-protect-content]